The Benefits of Shopping Around
The Money Saving March Challenge continues! Today, we're talking about the importance of shopping around. We all know that comparing prices before making a purchase can save us money, but oftentimes, it's easier said than done. But if you take the time to do your research and compare prices, you will be pleasantly surprised by how much money you can save each year. Let's talk about why spending time shopping around is worth it and how it can help you save in the long run.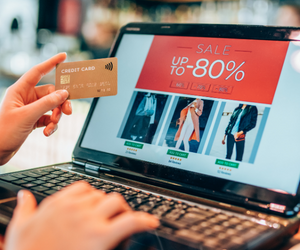 The Easy Way Out
It's easy to just go with the first option we find when shopping for something – especially when making an online purchase. We don't want to waste time researching, so we just pick the first item that looks good and hope for the best. While convenience is important, taking a few extra minutes to look around for the best deal can save you a lot of money in the long run.
4 Tips for Shopping Around
So how do you make sure that you get the best price? Here are some tips for finding great deals when shopping:
• Make use of coupons and discount codes – Coupons are popping up everywhere these days, from physical stores to online retailers. When using coupons or discount codes, be sure to read through any fine print associated with them since they may have certain conditions attached or require minimum purchases. We recently spoke about using coupons here.
• Utilize price comparison websites – Price comparison websites allow shoppers to search quickly and easily compare prices across multiple retailers without having to leave their homes or office chairs. These sites also enable shoppers to set up alerts so they can stay on top of discounts or sales that interest them the most. Google Shopping might be the best and most well-known price comparison website out there, but please feel free to comment with any other suggestions you like!
• Shop during seasonal sales – Many retailers offer big discounts during certain times of the year, such as Black Friday and Cyber Monday in November or various holiday seasons throughout the year. Taking advantage of these sales events can help shoppers save significantly on items they need or want anyway, so it's always a good idea to watch for those opportunities when they come around.
• Check out clearance sections – Retailers often put clearance items on sale at discounted prices near the end of each season as part of their inventory management strategy. This means shoppers can score amazing deals on items that might be more expensive outside of clearance periods!
No matter what strategy works best for your budget and lifestyle, there are plenty of ways that shoppers can get great deals by taking a little extra time to shop around before making any purchases. I won't front and act like this is easy, but let's be honest, it's really not difficult. I think, more often than not, it comes down to being an impulsive buyer. But if you spend a little extra time looking around, even a simple Google or Amazon search, and you may save yourself a few extra bucks!
Start Shopping Around
Shopping around doesn't have to be complicated or time-consuming; taking small steps like setting up alerts on price comparison websites or checking out clearance sections at physical stores will help increase your savings while still giving you access to great products at low prices! As we move into Day 12 of the Money Saving March challenge, remember that shopping around is critical when trying to stick within your budget – so make sure you're doing your research before committing! And I know, I know, nobody likes the "B-word." However, staying within your budget is essential if you genuinely want to save money and eventually attain financial freedom. So do your homework now and reap the rewards later! Happy saving!