Coupon Shopping Strategies
Welcome to Day 9 of the Money Saving March challenge! Today we're talking about coupons. If you're planning on making a purchase, there are countless ways to save money by using coupons. Many stores offer discounts at checkout if customers show coupons saved on their phones or in printouts at the register. In this post, we'll discuss why you should use coupons, how to find them, and how to use them.
Why You Should Use Coupons
Coupons are one of the most effective ways to reduce your spending. Whether it's a buy-one-get-one free deal or a percentage-off discount coupon from your favorite store, there is no denying that using coupons can save you a lot of money in the long run. Even if you don't have a coupon for an item you want to purchase, simply asking if they offer any discounts can often result in some savings.
How To Find Coupons
Finding coupons is easier than ever these days, thanks to technology. Many stores offer digital deals and promotions through their apps or websites, so be sure to check them out before shopping. Groupon is one pretty popular app that often offers coupons and discounted rates for local businesses. You can also look online to see what deals and discounts are being offered by big stores and smaller shops in your area. Finally, don't forget traditional sources like newspapers and mailers—they still exist!
How To Use Coupons
Once you have found some good deals and discounts, it's time to use them! Please read the fine print on each coupon carefully to understand exactly what it offers before redeeming it at checkout. Print out paper copies of digital coupons and make sure that they are clearly visible when giving them at the register. If you are using an app or website promotion, be sure that the code is entered into the system correctly before completing your purchase.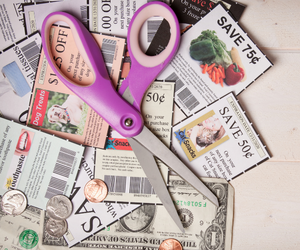 Start Clipping Those Coupons and Get Saving
Using coupons is one of the best ways for anyone looking for extra savings when shopping. Whether it's online or in-store deals, taking advantage of available discounts can help reduce your spending significantly over time—especially if you use multiple coupons in one transaction! Hopefully, this post has given you some ideas on how to find and utilize great deals while shopping—Happy saving!
By now, you've hopefully learned a money-saving trick or two and are making a solid effort to implement them. If you are new here, consider checking out Day 1 and the spending plan to help get your budgeting in place. Once you have your foundation in place, you can run with these other tips and tricks pretty efficiently. So what are you waiting for? Let's get saving.